The secret life of infertility and our journey to an IVF pregnancy announcement
It's no secret that Dan and I struggled with infertility with our first daughter Avalon. We went through 5 years of trying, two rounds of IVF and one failed pregnancy before we got our rainbow baby Avalon. This was nearly 6 years ago. Thankfully I had an incredibly supportive cake family on social media, friends and family that was there for us through it all.
But soon enough, the questions of "when are you going to give Avalon a sibling" began. If I ever complained of being tired, I'd get an "ohhhh maybe you're pregnant!". I know everyone's comments are well-intentioned. But pregnancy doesn't cure infertility.
Of course, we wanted to have another but not many know how incredibly emotionally draining it is to go through IVF even once. The financial strain is HUGE (nothing is covered here in Oregon by insurance) but that's nothing compared to the emotional struggle and the physical struggle. Putting your body through shot after shot, pill after pill. Bruises and bleeding. All for the hope of maybe getting ONE good egg.
The incredible HOPE you feel when after months or years, you get the chance to implant, only for that embryo to inexplicably die. That feeling of sadness… it's indescribable. It just doesn't matter how old a baby is… a few days or a few months. It's your baby. And when it dies, that loss is real. It's deep.
When you feel that loss — even one time — it's so hard to make yourself go through it again. Because there are no guarantees. All that anxiety and fear comes rushing back and you have to just be in it. Live in it. Stay there, for who knows how long.
That's where we have been for the last two years. In a kind of emotional limbo. Deciding that maybe we were ready to do this again. I didn't realize we would be putting our lives on hold for the next 24 months.
Not a lot of people know what you have to go through with IVF. Heck, my closest friends whom I update with every appointment can barely grasp it. I'm looking at a medications-and-appointments calendar and I can barely grasp it. But basically, you can't plan anything. If you do plan something, inevitably that will be the day you are ovulating and you need to start a certain medication or take a test. This happened to us SO many times in the first year, I couldn't even count. Every time I had a teaching gig, plans to travel or even an outing with friends scheduled, it would have to be either canceled or the appointment re-scheduled.
Then, there's no guarantee the medicine will work. All the medicines that they gave me for Avalon that worked great 5 years ago were suddenly making me produce cysts. Cysts mean you can't move forward. More delays. Try a different medicine. Oh now you have a polyp. That means surgery. Then recovery from surgery.
More medicine. More tests. More waiting.
Finally egg retrieval came. Even though I didn't have as many eggs as I did 5 years ago, I was thrilled that they got as many as they did. Hopes are way up! Then the eggs are fertilized, they wait to see which ones grow, and then the test them to see which ones are genetically good enough to implant. Then they freeze them until it's time to implant. Science is so amazing!
We had one egg. ONE. They joke that all you need is one good egg… but really that's really disheartening. Our first two eggs died with our first round of IVF. I could not help but feel there was no chance.
Then the schedules got REALLY out of control. NO matter how hard I tried, every time I had out-of-state work planned, that interfered with our transplant date. We were delayed 3 months because of work schedules that I could not cancel.
So we buckled down. NO traveling until after implantation. All we had to wait on now was my body to ovulate. I did everything they told me to. Took the tests, peed on the sticks, called on the date. "oh sorry, you missed ovulation by one day". It was Thanksgiving. Another month delayed. Another missed chance.
Up until this time we had been working with natural cycles to limit the amount of medications I had to put my body through. I finally gave up and agreed to a medicated cycle. That means more shots, this time in my back-side, to convince my body it was already pregnant and not ovulate. Avalon was a natural cycle so I had it in my mind that a natural cycle would be best. It was hard to let that go but I was just tired. Tired of waiting for nature to figure it out. Tired of the emotional roller coaster. Just tired.
Finally… on December 28th, we were able to transfer our one egg. It was bed-rest for two days and then a blood test to confirm pregnancy. This time I didn't tell anyone except very close friends. I knew all too well that the chances of this pregnancy not working out was very high. I knew I could not deal with a public explanation of what that loss would really mean for us.
I'm 38. This is literally my last chance to get pregnant. I'm considered to be a geriatric IVF patient. They really need a new name for that.
We had already agreed… if this egg did not take. We would be done. That thought alone gave me some peace. One way or the other, our lives would finally be able to move forward. If the baby survived then obviously that would be the most amazing blessing. Avalon would have a sibling, we would have another child to love. It also meant being tired again, having our time further divided and the added stress of a newborn. If the pregnancy didn't take, then we'd be happy with our one miracle girl. We could travel freely and not have to worry about whether or not our house is big enough. We'd know either way.
Of course, I was stressed out of my mind waiting for the results. I tried to prep my heart and my mind for the worst. As if that would somehow make it easier to handle. But there was one thing I didn't really take into account. Avalon. She's been here through it all. She's watching me get the shots. She's going with us to the appointments. She KNOWS there's a baby in that little egg in mommie's tummy and she's so excited. To her, there is no other way to be. Her excitement makes me excited. So I decide to just be excited.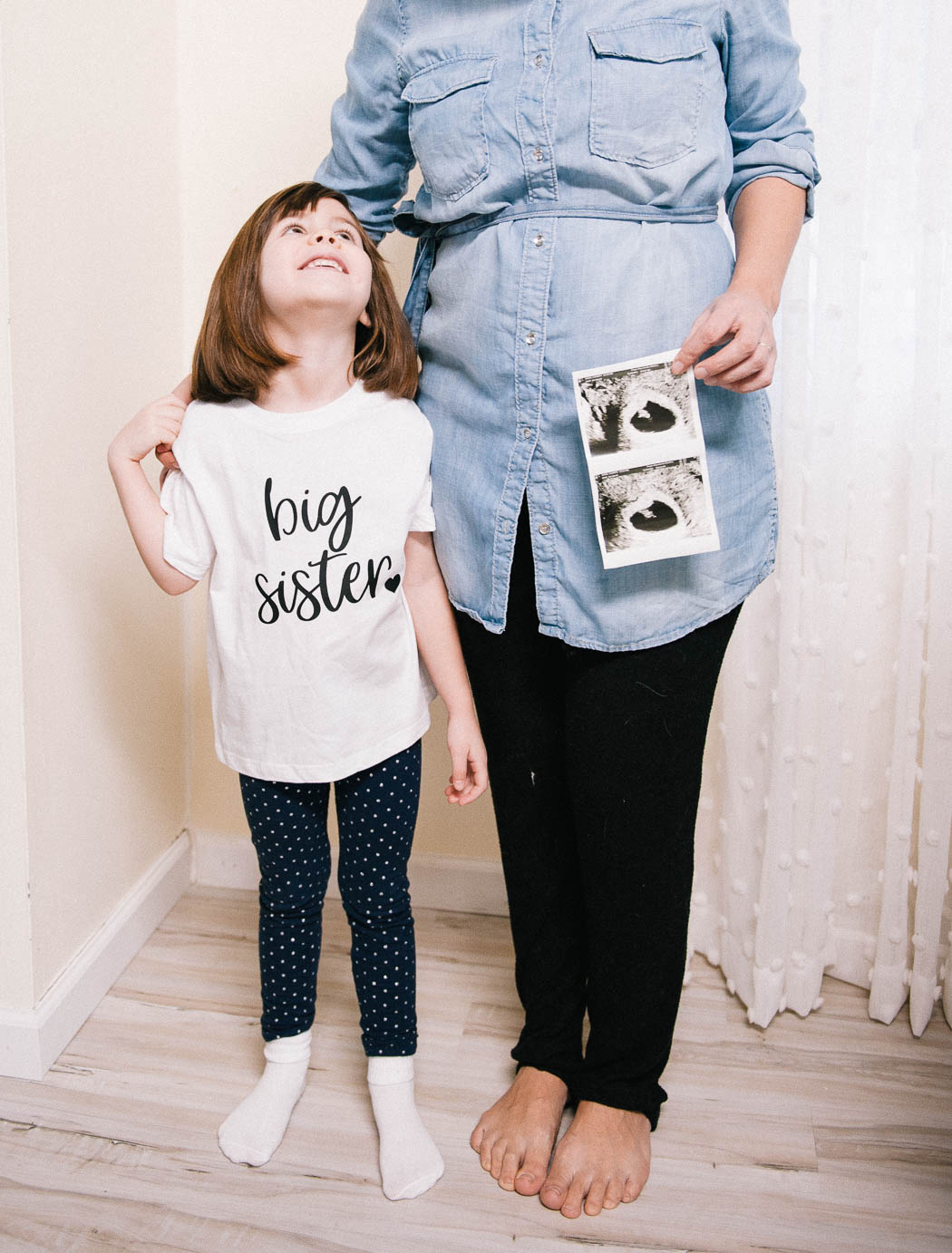 For ten days we just pretended that there would never be any other outcome than pregnancy. We talked about where the baby would sleep and how she would have to be a good big sister. She told me about all the things she's going to teach her new sibling and how much fun they are going to have. I knew deep down that the worst news COULD still be coming but it was ok. Because even if it did come, at least we would have those ten glorious days of pure happiness together.
My blood test was on January 7th and in a few hours they called to tell me that tests had revealed the presence of HCG hormones meaning that the egg had implanted and was growing.
Then two days after that, I got another blood test confirming my numbers where raising as they should be.
Two days after that, tests confirmed that I was indeed pregnant.
This is the funny thing about being pregnant after IVF. It's hard to know when to be really happy. I mean, we're happy! Of course we are! But it's always tinged with a bit of sadness because you know it might all end in a flash. Because it has ended in a flash.
There were also things in my work life that are affected. Being pregnant meant that I had to cancel a HUGE competition that I had planned on going to in Italy. I had worked for over a year to even qualify. Even though we had tried everything to make it work, of course, nature had other things planned and my due date fell one month before the competition. As much as I was looking forward to that competition, I just could not bear the idea of traveling internationally with a one month old and competing at the highest level of my field. There was just no way. I know it seems so insignificant compared to a baby but I had made commitments to people I really care about and did not want to let them down.
But you know what they say about making plans right? Of course everyone is understanding. Friends are amazing that way.
So here we are. I'm nine weeks pregnant. My second ultrasound is on Monday. Why are we announcing now?
Well… for one my job is to make videos and in those videos it will become increasingly obvious that I'm not just over-doing it on the potato chips. Secondly, I am exhausted. It's a lot of work pretending to be myself. To explain why I can't come teach this year. And sorry no I'm probably not coming to that cake show. Sorry I seem a little out of sorts, I still have to take progesterone shots every day until I'm 11 weeks. I just want everyone to know what's going on.
It will be so much easier to just say SORRY, I'm growing a baby LOL. No guilt.
And lastly… I know my cake family will be SO happy and I want them to be a part of it. And I know that there is a big chance that this could all be temporary. And if that day comes then I will share that sadness as well. I just didn't want to post a happy "yay, we are pregnant" photo because there is soooo much that has happened before that. That is still happening. Because I have dear sweet friends who I know will be sad when they see this pregnancy photo because it reminds them of their own losses. I know there will be strangers who will see this photo and feel that sadness from another announcement. I know exactly how that feels.
So this isn't just a pregnancy announcement. It's more of a hey, this is what's going on behind the smiling selfies and the social media posts. Real life. Everybody is fighting a battle of their own. Nobody's life is perfect. No matter where you are in your battle, I hope you have people in your life that you feel safe enough to share your fight with because it's incredibly hard to do it alone. And if you don't have someone, you can talk to me. I'll listen.
As long as it's not between 6pm -7pm because that's when I take my progesterone induced baby growing nap 🙂
Want to learn more about how IVF works? My daughter Avalon LOVES to watch videos you youtube about how her baby brother is growing. I thought this video was particularly informative and beautifully done.